LOVELY JON'S TOP 10 BLU RAY/DVD RELEASES OF 2021
In an attempt to break up the monotony of streaming algorithms and TV box sets, we asked the esteemed cult film expert and soundtrack collector to all things psychotronic and left field, Lovely Jon to round up his Top Ten Blu Ray/ DVDs of 2021.

Within the last year Jon has shared his underground culture expertise to Arrow Films and beyond, and his influence amongst cult film and music circles is felt worldwide. We're more than ecstatic that he's put together an extraordinary selection of recommended titles just for us. Are you ready to get diggin'?
Words by Lovely Jon
CHAMPAGNE AND BULLETS
(1993/US/DIRECTORS JOHN DE HART & JAMES PARADISE/VINEGAR SYNDROME BLU RAY – US)


In true Psychotronic fashion, we all love a low rent vanity project but this improvised straight to video 90s action horror melodrama (originally titled Road to Revenge) featuring a roll call of on the skids B movie vets is a true one of a kind experience.
DIY director/producer/writer/star/singer John De Hart has beamed down from another vortex to carve a bizarre, off kilter cops v satanists road crash alongside a truly wigged out 'performance' from cult figure Wings Hauser (whose intense, unpredictable onscreen meltdown appears perfectly real here). US boutique label Vinegar Syndrome has very much become the global genre cinema leader of our times whose eclectic roster of inter-connective partner labels continues to expand in to a genuine left field empire.

Trailer

MALIGNANT
(2021/US/DIRECTOR JAMES WAN/WARNER BROS BLU RAY – UK)


Saw creator James Wan takes it back to the old school in Grand Guignol style via artistic nods to arch Euro stylists Dario Argento and Mario Bava (the iconic black gloved phantom killer from Blood and Black Lace), Beelzebub of grade Z sleaze weirdness Frank Hennenlotter (tripped out webcam body horror prosthetics) alongside a marvelous homage to martial arts Master Yuen Woo Ping (reprising a ferocious 'House of Leaves' style John Wick-off with bone crunching aplomb). Full marks to fanboy Wan for throwing his primally unhinged toy box in to an anarchic, uncontrollable psycho steam roller for the ages.

Trailer

ELOY DE LA IGLESIA'S QUINQUI COLLECTION
(1980, 1983 & 1984/SPAIN/DIRECTOR ELOY DE LA IGLESIA/SEVERIN FILMS BLU RAY – US)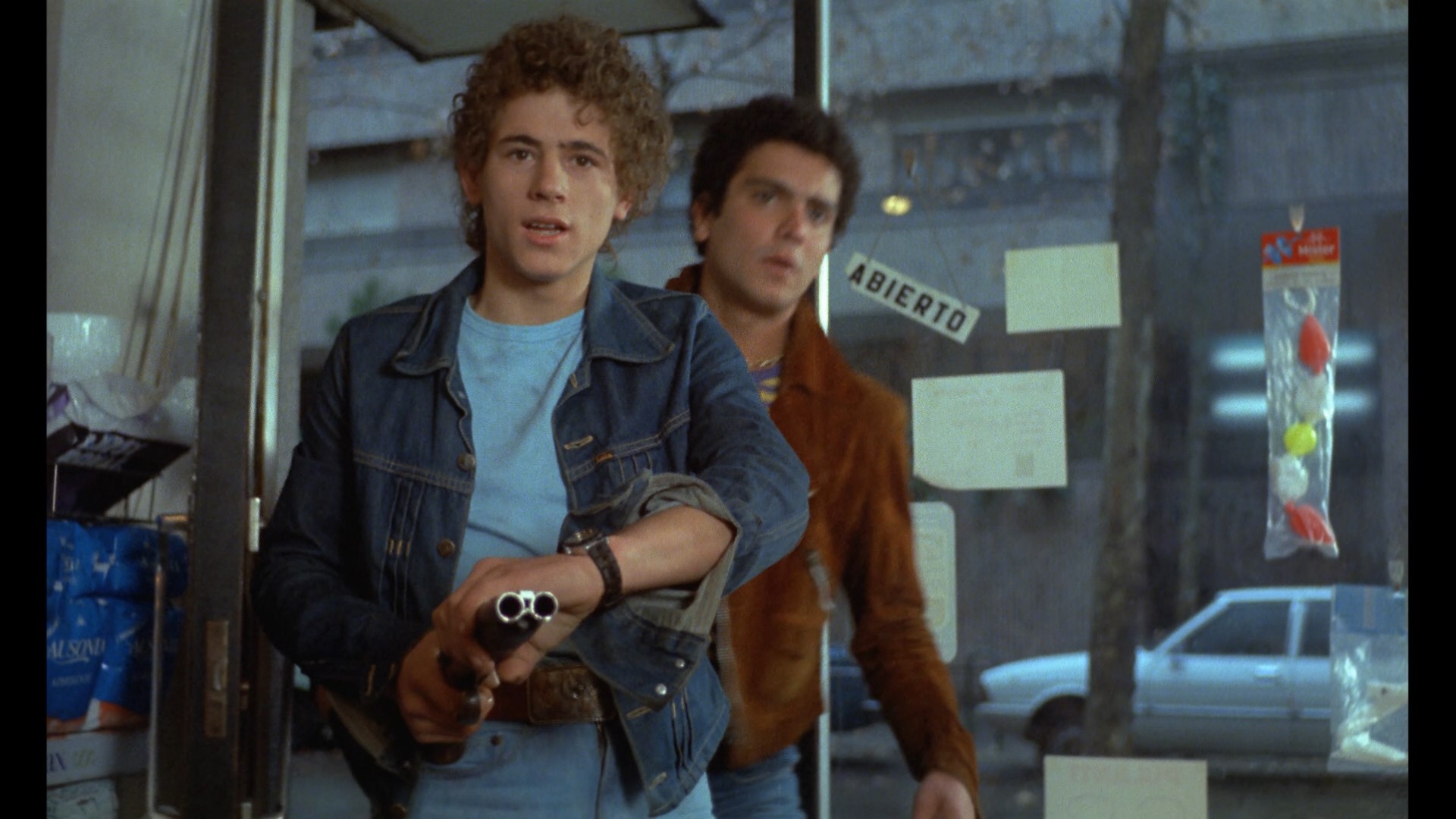 Infamous for his banned in the UK Video Nasty The Cannibal Man, gay activist auteur De La Iglesia was making provocative LGBT waves in Franco ruled Spain way before the DPP began seizing his sophomoric 1972 Hitchcockian psycho thriller (originally released as The Samana of the Assassin) to protect the 'vulnerable' (factory working) British public. Here's 3 unique entries in the director's obscure 'Quinque' juvenile delinquent series – Navajeros, El Pico and El Pico 2. Each showcasing a nihilistic and damning tome of lost youth's wasted corruption to a neglectful, abusive adult world, this is a hard hitting, censor baiting trio in the 'Pixote' tradition that requires a kind of 'scream therapy' approach to fully process the challenging imagery on display here.

Founded in 2006 and continually gaining momentum via a myriad of essential cross genre releases (not to mention kick starting the current trend in mammoth box set collections), Severin Films defy all 'established' boutique routes out there, releasing Mike Leigh's 'realist' All or Nothing and Ruggero Deodato's demented Italian trash exploiter Raiders of Atlantis in the same month.

Trailer

MAY GOD FORGIVE YOU... BUT I WON'T
(1968/ITALY/DIRECTOR VINCENZO MUSOLINO/KOCH MEDIA BLU RAY – GERMANY)


Much attention always seems to be paid to those predominant cult cinema labels in the UK and US that have loyal followings, however, those in the know genre fans who need to dig deeper relentlessly pursue the under radar releases emanating from Germany whose obsession with specialised packaging (especially those sumptuously crafted thick bound media books) can be a wonder to behold. Here's a super tough 'one note' Italian 'revenge for a slaughtered family' western ripped from the pulpiest of comic book Fumetto's that ditches any form of socio politico awareness ala Sergio Solima for a stoic, stripped to the bone modus operandi.

Stylistically informed by Guilio Petroni's influential Death Rides a Horse, Cjamamgo (old school Italian action star Giorgio Ardisson) relentlessly hunts down his familial killers 'with extreme prejudice' via a series of unique Jacobean vignettes. Exuding a raw, cynical edge this wonderfully baroque Spaghetti teeters on 'horror gothique' such is its relentless heart of darkness. Koch Media (an impressive Germanic cult film label who have been in the business for years) provides this unique english friendly limited edition release with alternative lurid artworks.

Trailer

MR. KLEIN
(1976/FRANCE/DIRECTOR JOSEPH LOSEY/STUDIO CANAL BLU RAY – UK)


A masterclass in silent paranoia, the great master of inner Kafkaesque psychosis Joseph Losey crafts a terrifying meditation on his own McCarthy trial victimisation transferred to Germany occupied Paris where Alain Delon's suave, unprincipled art dealer discovers an exact doppelganger covering his steps and putting him on a direct collision course with the dreaded Nazi conspirators The Vichy Administration (sending thousands of French Jews to concentration camp genocide).

Unremittingly bleak featuring unnerving sub-sonic drones from electronic sound design pioneer Egisto Macchi alongside DOP Gerry Fisher's prowling cinematography, Mr. Klein remains a timeless warning against fascism enveloped within a suffocating aura of slow burn dread. Delon (never better), transfers his trademark icy demeanour, emoting his impending entrapment solely from those piercing baby blues. Part of Studio Canal's stellar Vintage World Cinema range, we have been graced with a gorgeous 4k restoration here which flawlessly trounces all previous digital releases.

Trailer


DEEP COVER
(1992/US/DIRECTOR BILL DUKE/CRITERION BLU RAY – US & UK)


A best of the year list would never be complete without an entry from the original boutique label (going all the way back to those halcyon laserdisc days – remember them?). Bill Duke's street level 'neon noir' (embracing lurid fluorescent night time LA colour schemes soon to be appropriated for Nicolas Wending Refn's Drive), places cool as hell Lawrence Fishburne in to the undercover environs of The City of Angels drug scene to bust a major coke ring (featuring an unhinged, hyped Jeff Goldblum in the role he was born to play). Duke (an in-demand major character actor at the time – check his psychotically intense role in the original Predator), could have been the new Spike Lee but chose his own urbanised cinematic path.

The eye popping 4k transfer delivered by Criterion will require the darkest of shades to view the damn thing whilst Dr Dre and Snoop Dog pump the hot OST with a slew of low-slung boom bap jams guaranteed to shred the ears.

Trailer

THE SNAKE GIRL AND THE SILVER-HAIRED WITCH
(1968/JAPAN/DIRECTOR NORIAKI YUASA/ARROW BLU RAY – UK & US)


Arresting psychedelic dreamscape imagery, Eastern folk tale motifs, a giallo-esque thriller narrative and coming of age drama collide in Noriaki 'Gamera' Yuasa's spellbinding impossible to catagorise Daiei production. When orphan Sayuri is reunited with her long lost parents she returns to the familial home where a killer haunts the household. Could her fantastical creeped out dreams of demons and witches be real or are there more logical impulses at work? Seeped in Manga style intuition alongside DOP Akira Uehara's deeply probing cinematography (Sayuri's new suburban home resembles a gothic castle with its sinister secret rooms and spooked out attic), this cross genre children's movie is like no other and features a touching, immersive performance from Yachie Matsui whose child life POV is perfectly conveyed through an apprehensive, vulnerable gaze.

Full marks to Arrow for the wonderfully robust monochrome transfer (one of their best from the Daiei vaults).

Trailer

CINEMATIC VENGEANCE
(1974-1979/TAIWAN/DIRECTOR JOSEPH KUO/EUREKA BLU RAY BOX SET – UK)


A mind blowing 8 movie set showcasing the talents of long underrated independent martial arts auteur Joseph Kuo who for decades has been solely represented by the hardcore old school kung fu aficionado's who know. Although there is no Mystery of Chess Boxing or Born Invinciblehere (two of Kuo's all time late night show masterpieces), we have a multitude of classics and fan favourites to (re)discover in stunning 2k transfers – The 7 Grandmasters, The 36 Deadly Styles, The World of Drunken Master (featuring legendary Kuo players Jack and Mark Long), The Old Master (a unique one off stint for Jackie Chan's Sifu Jim-Yuen Yu), Shaolin Kung Fu, The Shaolin Kids, 18 Bronzemen and its sequel Return of the 18 Bronzemen (both outright masterworks and firm all time Jigoku favourites).

Working within a resolutely uber-low budget trajectory (resulting in much outdoors location work), Kuo was a whizz at maximising the production values of his work via talented DOP's such as Chang Cheh regular Wu Kuo-Ren and some of the best kickers in the business (including old Rubber Legs himself Hwang Jang 'Silver Fox' Lee).

I feel we can safely confirm with this sophomoric release that the formerly 'derided by film critic snobs' old school martial arts film is now established as a highly respected and valued cinematic genre up there with the global arthouse titles curated by Eureka (this was originally released alongside Sundance critics hit Sweet Thing).

Trailer

ZIPPERFACE
(1992/US/DIRECTOR MANSOUR POURMAND/CULTURE SHOCK RELEASING/DVD – US)


"The Last Face You'll Ever See!"… A wild sado masochistic Lo-Fi slasher with a clever femme-centric twist (the bondage fixated fantasist killer becomes obsessed by the tough as nails female cop assigned to track them down). Working within an impoverished budget, director Pourmand knows how to placate the sleaze alongside some seriously grimy camerawork via Hard Rock Nightmare DOP F. Smith Martin (you can almost smell the PVC leather get ups on display here).

Thrown out in to the unregulated NYC rental video shop wilds back in the day, now an ahead of its time psychological 'gender bender' horror 'antique' (which will have feminist critics re-evaluating its femme-masculine status in droves), Zipperface joins Amy Holden Jones's seminal 'toxic masculinity' psycho killer homage Slumber Party Massacre as a pre-Scream dissection of slasher conventions. Culture Shock Releasing(intent on formulating an interesting rota of unique off-radar indie genre wonders) is a label to watch – they've just hooked up with Vinegar Syndrome so expect more little known micro nuggets to appear in the future.



SHORT SHARP SHOCKS VOL.2
(1943-1986/UK/BFI FLIPSIDE – UK)


Another essential collection of "C" productions produced to accompany the main features projected at pre-multi screen UK cinemas, BFI's Flipside compile further obscure wonders within a 40 year time frame showcasing the 'golden' period of double and triple bills (now long lost to the glutinous M.O. Of multiplex running times). There's much to dip in and gorge on but be sure to check out these gems – Jack The Ripper(eye popping early pop promo madness featuring punk icon Screaming Lord Sutch), The Face of Darkness (Leonard "Only Fools and Horses' Pearce conjures a pagan demon to create outrageous terrorist acts), Hangman (effective public information scare tactics utilised for the building trade) and ahead of its time The Mark of Lilith (radical lesbian filmmakers explore the gender politics of vampires via a visit to Brixton's legendary Ritzy Cinema).

Packed with fascinating extras (the interview with Ritzy veteran Claire Binns highlights the crazy zeitgeist within the cinema's walls during the Brixton riots), this second volume continues its intentions of unearthing the strange, obscure, provocative and 'anything goes' micro productions that were able to break free from their underground ghettos and receive generous distribution to mainstream audiences (unheard of today where such left field cinematic statements find themselves cemented within the confines of the independent festival scene).

Trailer

Honourable Mentions
A Bullet for The President (Wild East)

Argoman The Fantastic Superman (Studio Canal)

Columbia Noir 3 (Indicator)

Deadlock (Subkulture)

Death Has Blue Eyes (Arrow)

Ebola Syndrome (Vinegar Syndrome)

Franco Noir (Severin Films)

Free Hand for a Tough Cop (Fractured Visions)

Gestapo's Last Orgy (88 Films)

High Sierra (Criterion)

Howl of the Devil (Mondo Macabro)

Hungarian Masters (Second Run)

Karloff at Columbia (Eureka)

Love After Death (AGFA/Something Weird)

Mahakaal (Massacre Video)

Mail Order Murder: The Story of W.A.V.E Productions (Saturns Core)

Maniac Killer (Full Moon)

No Retreat, No Surrender (Kaleidoscope Home Entertainment)

Nosferatu in Venice (Severin Films)

Out of The Blue (BFI)

Shawscope Volume One (Arrow)

Siege (Severin Films)

Smut Without Smut: Satanic Horror Nite (AGFA/Something Weird)

Strike Commando (Severin Films)

The Boys Next Door (101 Films)

The Drug Connection (TVP)

The Dungeon of Andy Milligan (Severin Films)

The Golden Mask (TVP)

The People Next Door (Indicator)

The Suicide Squad (Warner Bros)

The Young Master Special Edition (88 Films)

Vengeance Trails (Arrow)

Waterloo (Medium Rare)

Whatever It Takes (Vinegar Syndrome Archive)

Yield to The Night (Studio Canal)